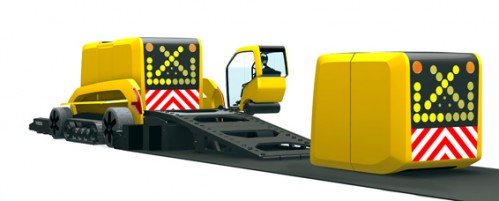 Neue Designstudie einer Arbeitsmaschine von VOLVO
Seit einiger Zeit verblüfft VOLVO mit richtig gut gemachten und gleichzeitig sehr visionären Designstudien für mobile Arbeitsmaschinen. Nun ist es wieder soweit und Fenix erblickt das Licht der Welt.
This is Fenix – the extreme concept asphalt paver-compactor from Volvo Construction Equipment.

Like the immortal mythical fiery bird that is its namesake, the Fenix paver excels when the going gets hot. Not only is it fast, flexible and intelligent, it is clean, easy-to-use and friendly on the environment.

While clearly a Volvo, it is almost unrecognizable as a paver: Fenix radically redraws the traditional profile. In fact it is much more than just a paver – it is a fully integrated highway paving/finishing system.

Looking like an earth-bound lunar landing craft, Fenix is a unique creature. Unlike traditional pavers whose progress is entirely dependant on the – sometimes erratic – arrival of hot asphalt filled trucks, Fenix instead uses Volvo's ingenious POD system.

The PODs are laid out in front of the approaching Fenix at predetermined spaces, each super-insulated unit filled with 17 tonnes of asphalt mix, made from environmentally friendly, quick-curing organic binder. Once emptied of its asphalt, each super lightweight POD collapses automatically into a space-saving compact size, ready for return and recycling to the mixing plant.

The operator of the future will no longer be exposed to the elements, and will board Fenix by using the inclined ramp. Once safely seated in air conditioned comfort, the entire cab can be elevated to give a commanding worksite overview. The cab position can also be altered in height and aspect to suit the needs of the job.

Fenix is now ready to pave.
auch das IVT hat inzwischen darüber berichtet. Und das ebenso neugierig und positiv wie zuvor der Equipment Trader über Gryphin, der hier auch in Aktion zu erleben ist.
und das sagt VOLVO CE zu seiner Designauffassung
Everything is designed. Industrial design isn't a new phenomenon; everything ever created by man has been 'designed'.  And all construction equipment today is a development of basic hand tools, the pick, fork, shovel, wheelbarrow, pulley, etc…old ideas with new sparks of genius added every day.  Volvo's design thinking – for construction equipment and even the fuels that provide the power – is ever changing.  The shape, form and fundamental components of all construction machines are under constant review – and many are destined to undergo changes that are little short of revolutionary.

Volvo Innovations will amaze you.