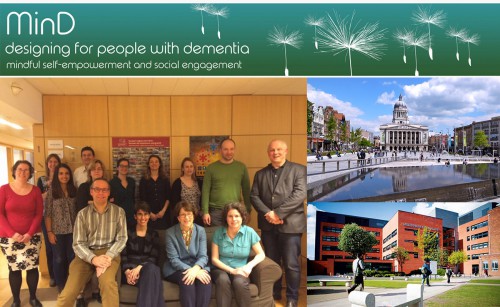 First Meeting Eu-Project Mind – Horizon 2020 in England
Researchers from 13 partner organisations in five European countries + Australia came together to discuss how they will collaborate in the area of designing for the mindful self-empowerment and social engagement of people with dementia. Below the partner list this project:
University of Wolverhampton, UK (coordinator)
Nottinghamshire Healthcare NHS Trust, UK
Alzheimer Europe ASBL, LU
Université du Luxembourg, LU
Universiteit Twente, NL
Zorggroep Sint Maarten, NL
Panton BV, NL
Technische Universitaet Dresden, DE
Alexianer St. Hedwig Kliniken Berlin GmbH, DE
Fundació Eurecat, ES
Picharchitects, ES
Fundación INTRAS, ES
Queensland University of Technology, Australia
The team of Industrial Design (Technisches Design) TU Dresden, will participate of this EU Mind Project, which will have duration of 48 months (2016-2020). The meetings over these four years will be distributed in cities of 5 European countries: England, Luxemburg, Germany, Spain and Holand, each meeting will be 15 days in working together split between these countries.
The Project aims is to develop a mindful design approach to dementia care to help people, who experience psychosocial difficulties as a result of dementia, to improve their subjective wellbeing – as the individual's perception of their emotional wellbeing, sense of purpose and meaning of life (Steptoe et al 2015) – and engagement in social contexts. The project brings together the areas of design and dementia care within a mindfulness framework to create a holistic person-centred approach to enable individuals to manage their condition, to develop perceptions of self-empowerment, and to gain confidence with engaging socially. We will use the concept of mindfulness both as a framework and as a design approach to enable the integration of mindfulness into everyday social life (Ie, Ngnoumen and Langer 2014).
Design can offer novel ways of complementing existing care approaches to empower people with dementia in everyday social situations. Utilising the concept of mindful design, we will investigate innovative design solutions to enable self-empowerment and confidence building of people living with dementia. We will specifically focus on two areas:

a) personal difficulties with social interaction and

b) environmental influences on social engagement. In these two contexts, we will study how personal, wearable designs can help mediate perceptions of identity and emotion management; and how environmental aspects can reduce feelings of information overload and instill feelings of self-empowerment and control.
The first secondment will be held in the cities of Nottingham and Wolverhampton in England from 02 – 16.05.2016.
More informations about the project, please contact the link below
http://minddesingingforpeop.apps-1and1.net/
Merken
Merken